Schaumburg, IL – Motorola hopes to jumpstart its flagging handset division with the release of the highly anticipated Bratr phone. The Bratr boasts a cylindrical, vibrate-only design which Motorola expects to be popular with females.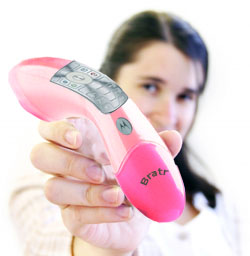 Linda Lacey, corporate vice president, Mobile Devices, Motorola, said, "The phone has all the features consumers expect in a mobile phone, but what's most exciting is the physical design. Women will find the cylindrical shape a pleasure to use."

The Bratr is the first phone to feature Motorola's "vibrate only" setting. Lacey explained, "Our survey of most women found that ringtones didn't do much for them, it was vibrations that excited them. That's why we've fitted this phone with the most powerful vibration motor ever found in a mobile phone."

Motorola designed the phone for females, but some males might also find the phone attractive.

"I know it's pink, but when I keep this thing in my pocket I get a lot of stares," said Phil Derbin of Peoria. "I'm happy to see women now, and they can tell."

Other features of the phone include a keyboard for texting which remains hidden until the phone slides apart to its full seven inch length. The Bratr also includes a "test vibration" button. "We found many of our test users kept checking to see if the vibrating function worked by calling themselves, so we just added the button to the final version," said Lacey.

Other accessories for the phone should prove popular as well, including the Nubr and Rubr phone cases.