This week marks Bill Gates's last week at Microsoft. Like other respected news sites or an '80s sitcom on a low budget, we thought it would be a good time to look back at his life and times through the eyes of BBspot.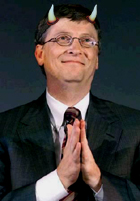 Before we get to that, I'd like to thank Bill for being such a great source of material over the years. Without him there might not even be a BBspot. Enough of the sap, let's look at some of the highlights of his career on BBspot.
Gates made his debut on BBspot over eight years ago in the popular Microsoft Purchase Evil from Satan story. Bill told me this is one of his favorite stories here on BBspot, and that he has an autographed copy of it hanging on the wall in his bedroom.
Next, Bill unleashed his army of evil monkeys to delay the Linux kernel and left Steve Ballmer to deny it. Bill only makes a small appearance in this story, but he did a great wicked witch of the west impression for me that I think I really captured in words.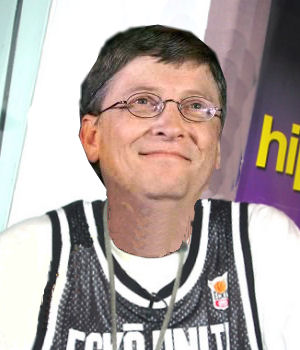 Skipping ahead to 2001 and Gates's famous speech where he declared that "Linux was the best OS ever." I admire his strength of character for going out on a limb and praising the competition. He said that he got a lot of flack for that one, but it was worth it.
Later in that year Wil Wheaton provided coverage of Microsoft's security death squads. Bill was never more proud than to be lampooned by the former Wesley Crusher. It started a friendship between Gates and Wheaton that has lasted throughout the years despite Wil's shunning of Microsoft's products.
No one hates spam more than Bill Gates (since he receives 20% of the spam in the United States daily), which is why he was so proud to announce the new spam-blocking technology exclusively on BBspot.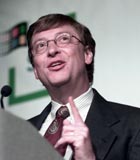 Thanks to Worth 1000 and a.viary.com founder Avi Muchnick for his 2005 coverage of Microsoft's nearly completed Death Star. Even with Microsoft's history of delayed product launches, I'd think they'd be done with the project by now. Watch out! I kid, they still aren't done with it.
We were also one of the few outlets to cover Bill's foray into rap music. Since he never put out another album, I think you can figure out how it went.
And just this year we covered the problems over at Bill's charitable foundation. Where he was allegedly bringing Microsoft's monopolistic business practices to giving. As a close friend of Bill, I can't believe that he would do such a thing. I'd consider the source before buying into that one.
These are just a few of the many stories about Bill Gates here on BBspot. If you want more head on over the the Microsoft archives. It's a good way to waste a day.
Finally, I'd once again like to thank Bill Gates for not suing me, and wish him the best in his retirement.